If you are a fan of the Cornell System then buying a notebook with its specialized formatting can be critical to your note-taking success. But with so many notebooks available, which one should you buy?
What Are Cornell Notes?
You probably know this already, but if you are still getting up to speed, Cornell notes  (sometimes called the "Cornell Method" is a note-taking system that started at Cornell University in the 1950s. The system divides notebook pages into three parts: Cues, Notes, and the Summary. These accomodate questions/keywords, facts, and paraphrasing, respectively.
The page layout typically reserves a small space at the top for a title and 5 or so lines at the bottom for the summary. The middle section is usually laid out with 30% on the left for cues and 70% on the right for your notes.
For the record, you don't need a specialized notebook in order to use the Cornell system — you can simply draw the lines yourself, print a Cornell-formatted PDF with any computer printer, or organize the pages without lines. That said, many people prefer the cleanliness and convenience of pre-printed Cornell system notebooks.
It's worth noting that some notebooks use a Cornell-like layout with the 30/70 split and sometimes even with the summary section on the bottom without calling themselves "Cornell Method" or anything like that. We'll count them in this list even even if they are missing the branding.
Best Cornell Notebooks
For you the best Cornell notebook might simply be the best notebook or your favorite notebook with some lines drawn on it. For many of us, a pre-printed Cornell system notebook is preferable. Here are some great picks…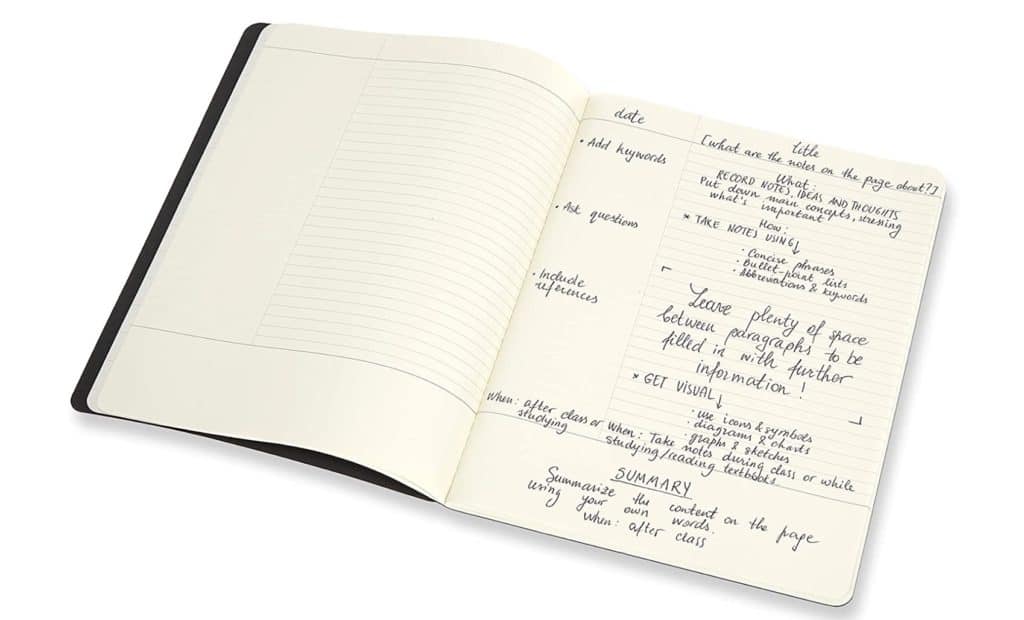 Moleskine Cahier Journal
You might be surprised to learn it, but the Moleskine Cahier Journal uses a Cornell layout, so we recommend checking out the Moleskine Cahier Journal Soft Cover in the XL size. You'll get two of these notebooks (160 pages total) for about $20.
We've talked a few times about how much we like the Moleskine Cahier and how useful of a notebook it is. It has a flexible, soft cover, a nice size (7.5 inches x 9.5 inches) and it's quite light so carrying around a few of them is easy.
This notebook is relatively pared down, going so far as using utilitarian craft paper for the cover, but you do get a clean, minimalist styling and 16 perforated pages in the back of each.
This notebook uses relatively lightweight Moleskine paper, so it's not great for rollerballs or fountain pens, but the paper is still on the high-end side and it's more than enough to meet most students' demands.
Gakken Cornell Method Notebook
If you have access to a Japanese stationery store or Amazon Japan, you can find these Gakken notebooks. They are lightweight and affordable, much like the Kokuyo Campus series of notebook, but they are also very cool looking, with striking colors on the cover making for a very cool look.
The Gakken Cornell notebook has extensive instructions on the inside cover (unfortunately they are only in Japanese) and clear, legible printing that makes your Cornell laid super clear. These notebooks often use blank sections for Cues and Summary, but a graph rule in the notes area. They are also sold with normal line rules as well, but it's nice to have the option.
These are B5 sized notebooks which means they are lightweight and very portable, with a softcover.
A 3-pack of these will cost you about $8.
Oxford FocusNotes
The top pick with Amazon buyers is the Oxford FocusNotes notebook, which are made by the school notebook giant Tops. These notebooks are rather expensive (1-subject for $10, but the price fluctuates on Amazon) but if they improve your studies we know they will be well worth it for many buyers.
This notebook uses the "ID note method" which is a variant of the Cornell method, and seems to be practically the same (trademark issues aside). The notebook has nice, thick 20 pound (75 gsm) paper and some nice perks you won't find on many other notebooks in this category, particularly perforated pages and three-hole punching for binder compatibility.
If you'd prefer something without a spiral binding FocusNotes are also sold in a more affordable top-bound pad version which we prefer.